3/24/22
Thank you for visiting our website.
At Roseda, we interact with all segments of the beef cattle industry from Angus breeders to commercial cattlemen, to feedlot owners, to packers, to retail stores, to "freezer beef" consumers. This gives us a unique perspective of the beef industry and motivates us to produce Angus genetics that create both the greatest economic value for producers and the best Angus beef product for consumers.
Please continue to explore our site and see for yourself the results
of our industry focused program.
Ed Burchell & Dean Bryant
NCBA featured Roseda Farms in a Cattlemen to Cattlemen segment
---
Read "Roseda Black Angus Beef — The Ultimate Byproduct," published in the March 2002 Angus Journal.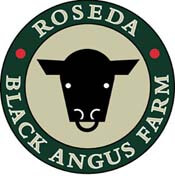 "Beef with a Background"™
Superior Carcass Genetics